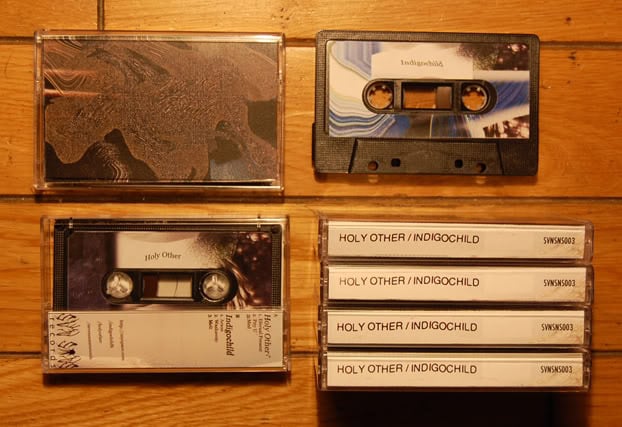 HOLY OTHER / INDIGOCHILD - Split CS30
€

5.00

/ Sold Out
---
Holy Other's pure minimal gothy harmonies collide with young talent Indogochild's maximalistic sound of despair for everyone's enjoyment.
Limited to 100 tape copies.
ref : SVNSNS003
Tracklisting :
Side A / HOLY OTHER : 1. Eternal Present - 2. Pity U - 3. Med
Side B / INDIGOCHILD : 1. Arson - 2. Washaway - 3. Melt
Rough Trade says : holy other see their debut 7" coming out on transparent records and here's some further mystikal emanations from the smokey crew. deeply unsettling, like salem or ooooo if they were the house band at twin peaks' one eyed jacks, all unsettling twisted ambience and brooding ethereal spirits. indigochild is a weighter, doom-laden wall of killer bass. perhaps like salem's little brother, indigochild combine whispered creepy vocals and raw-power tape blow-out to really uphold their own on this split.