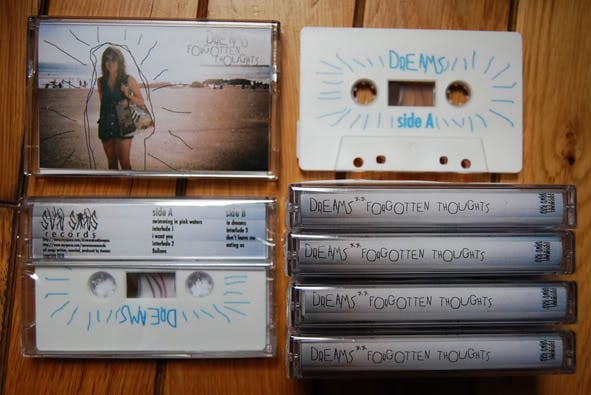 DREAMS - "Forgotten thoughts" EP - CS30
€

5.00

/ Sold Out
---
Limited to 100 copies
9 new brilliant tracks by Portuguese chillwave prodigy Joao Chavez.
Side A : 1. Swimming In Pink Waters - 2. Interlude I - 3. I Want You - 4. Interlude II - 5. Believe
Side B : 1. In Dreams - 2. Interlude III - 3. Don't Leave Me - 4. Eating Us
Rough Trade says : before the year turns darker there's still glorious summerisms to be had, this time from portugal's dreams. ostensibly some young kids' ideas of what the past was like, 'forgotten thoughts' is a swirling, echoing collection of halcyon memories fading in and out of a psychedlecised brain. it's a pulsating sound with a mutant house backbeat and layered harmonies draped all over. if washed out had been tie-dyed in a porto beach house and then left on the beach while the kids went swimming it'd sound like this.